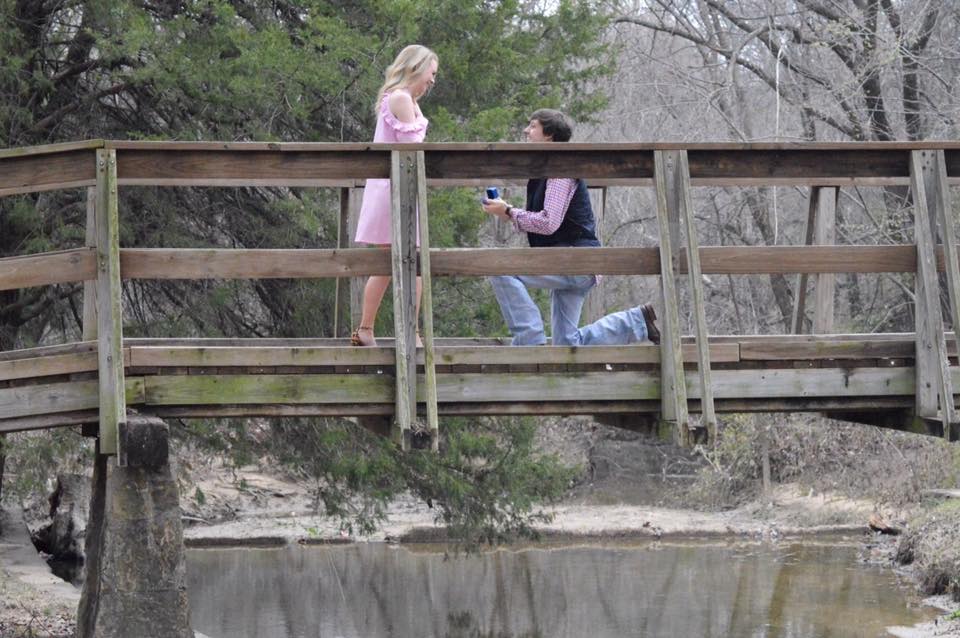 Hey sweet thang! Today's post is very special, because I am sharing how Austin popped the question, as well as the beginning steps I am taking towards wedding planning. So keep reading if you want to get all the deets!
As some of you may know, last Sunday was my birthday, as well as moving day for our new apartment! Saturday night Austin & I went on a birthday date for hibachi, since we knew Sunday would be extra busy. Hint- we knew it would be extra busy, but Austin insisted that we needed to go to church & brunch. Let me remind you- it was moving day so I was already stressed! However, I decided to try & go with the flow (which is extremely hard for me), so I told him that was perfect. Austin knew what he was doing by saying we were going to church, because he knew I would get all dressed up, especially since it was my birthday. While we were in the midst of driving to church, I knew something was up because Austin drove right past the church without batting an eye.
I questioned him by saying, "Uhhh where are we going?"
He replied with, "I am pretty hungry, so I figured we would just go eat."
It was already 11:00 so I was a-okay with that, because I was starving! However, as we approached the vicinity of the brunch spot, he drove right past it, too. This is when I knew something was up! I vividly remember the precious look he gave me when I asked what was going on. Seriously though, I wish I could have had that look on camera. You know the look I am talking about. The ones we all see in hopeless romantic movies, where you just feel that beam of love shining right through you. It gives me butterflies just thinking about it! After driving for about ten more minutes, we pulled up to this beautiful park. It then hit me with what was happening! He opened the door for me & told me to get out & that we were going on a walk. We slowly walked down a trail that led to a bridge over a creek. *tears began to fill my eyes already, as I knew what was coming*
We finally reached the bridge & Austin took my hands, stared deeply into my eyes (cue the tears even more) & said a bunch of sweet things that neither of us remember. LOL! This was followed by him getting down on a knee & asking me to spend forever with him. I of course said YES! That moment in time, easily became one of the best moments of my life. My love for Austin is more than I can express, & I am so thankful for the past 4 years with him. And now to think I get to spend a lifetime with him, WOW WOW WOW, is all I have to say.
We are so excited for this precious time surrounded by friends & family, & I cannot wait to share the process with you along the way. For starters, we are looking to do an early December 2017 wedding. I am pretty set on a fall/winter wedding, so we will see what date we can come up with! My goal right now is to get the venue booked within the next week or so. With that being said, we are touring a couple venues this weekend & I am hoping we both fall in love with one of them,  because let's be real… that would make life a lot easier! We both love the industrial/rustic look. So think exposed brick & chandeliers! If you know of anywhere that sounds like that in DFW, please let me know, as I would love to know your suggestions!
Thanks for stopping by & have a fabulous weekend.