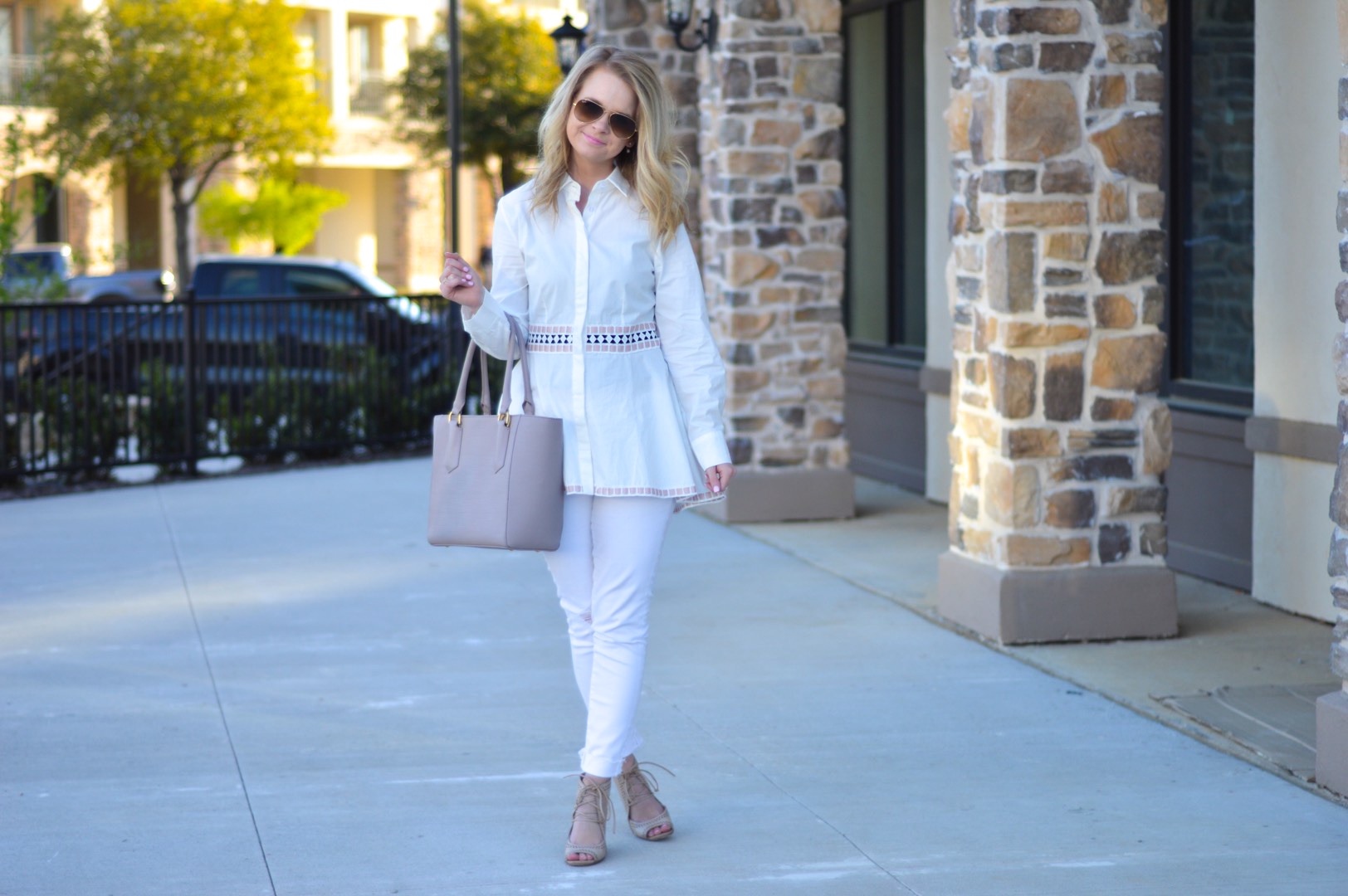 Shirt: LastCall// Jeans: Nordstrom// Shoes: Similar// Watch: The Peach Box [c/o]//
Purse: Dagne Dover [c/o]// Sunglasses: Nordstrom// Lipstick: MAC [color snob]//
Hi friend, happy hump-day! I don't know about you, but this girl is SO ready for the weekend. This is honestly the first weekend that we do not have anything we have to do in seriously months! And I am so ready to just lounge around and be lazy. Praying for some rain Sunday, because what's a lazy day without a good thunderstorm? Any who, back to what you're here for… the fashion 😉
Sometimes wearing all white can be tricky, but let me tell ya- I am a total fan! I do not think there is anything more chic then an all white outfit. For starters, if you are on the hunt for the best white jeans around, the ones I have on above are my new fave! They are extremely comfy, stretchy & will honestly be your new BFF. Sometimes white jeans feel so stiff on & by the end of the day I am beyond ready to get out of them. However, not in these bad boys! And what's even better is they are under $65! Thank you Nordstrom & Articles of Society for these reasonably priced, comfy jeans!
Now moving onto the cutest part…. the designer top!
I found this peplum blouse from Neiman's Last Call & the price instantly had me sold. Not going to lie, I saw this shirt hanging at the store all fall, but could not bring myself to spend $75ish. BUT you know this girl is all about a sale, so I had to jump on it when I saw this top for such a low price. The cutout detail, with the hint of pink, it just has my name written all over it 🙂 The ONLY downfall is it wrinkles so easily, but that's the only negative word that's going to come out of my mouth about it! If you are curious about sizing, I am wearing an XS! Also, if you never shop at Last Call, I encourage you to browse their website here. You can find the best designer pieces, for such a steal.
Thanks for stopping by! Have a fabulous rest of your week.