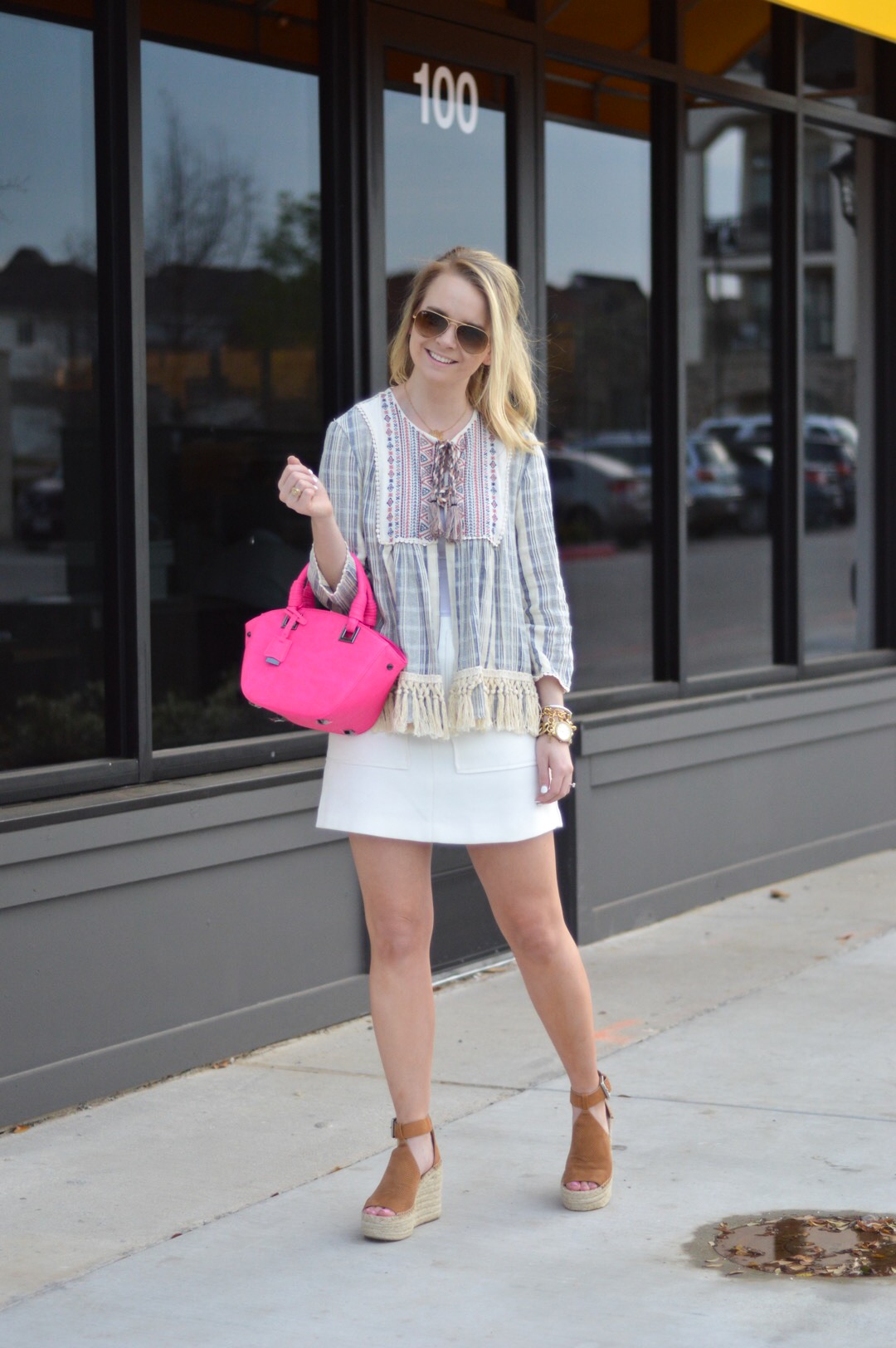 Purse: Oliver Bilou [c/o]// Cardigan: Target// Skirt: Forever 21//
Shoes: Marc Fisher// Sunglasses: RayBan//
Hey girl hey, happy Tuesday! Only three more sleeps until Friday, so you can do it 🙂 The forecast is warm, warm & warmer for this week in Texas & I could not be happier. I have never been so ready for wedges, mini skirts & bright bags!
Today I am bringing this sassy little Jade purse from Oliver Bilou to the blog. I am a firm believer that a good purse can change the attitude of any outfit! Seriously, talk about taking a look from drag to fab. I am obsessed with this pink little beauty & she is the perfect addition to this all white look for spring! When I received this purse in the mail & opened it, I instantly thought of Barbie. Lets be real, if Barbie was a real human, she would definitely own this purse. The quality is perfect & is made out of textured vegan leather! Which means Jade is ready to encounter any storm 😉 If I had to choose two words, to describe this precious little purse, they would dainty & sassy! Oh & want to know what makes her even cuter? She is only $95! Also, if you use the code "GEORDIAN" at checkout, you will get 10% off your purchase!
This purse would be the perfect addition to your spring & summer wardrobe! Whether you take Jade shopping, on a date night or even to work, she will make you standout amongst the rest of the crowd! Or if you are not a pink girl, this little Vivian bag is so stinkin' cute, too!
I hope this look makes you as ready for spring as I am! Thanks so much for stopping by. Have a fabulous day!

Thanks to Oliver Bilou for this collaboration. All opinions are my own.