Another destination is officially crossed off my bucket list, as I got to travel to Charleston, South Carolina last weekend. You want to talk about the cutest town, because Charleston seriously meets all the qualifications. It was a bloggers dream for the best pictures, as all the buildings are different colors & the streets are surrounded by palm trees! LOL.
I traveled to Charleston with three of my blogger friends, Yasmina, from Dress Well Travel Often, Whitney, from Whits Whims and Jaclyn from My View in Heels. We seriously had the best time! From eating at 1Kept, Millers All Day, The Darling Oyster Bar & more. Indulging in drinks at rooftop bars on Upper Kings Street and dancing the night away. And even sailing on OM Sailing Charters & getting some sun! It was such a fun trip & I can't wait to break down all the nitty gritty for you.
Where & what we ate: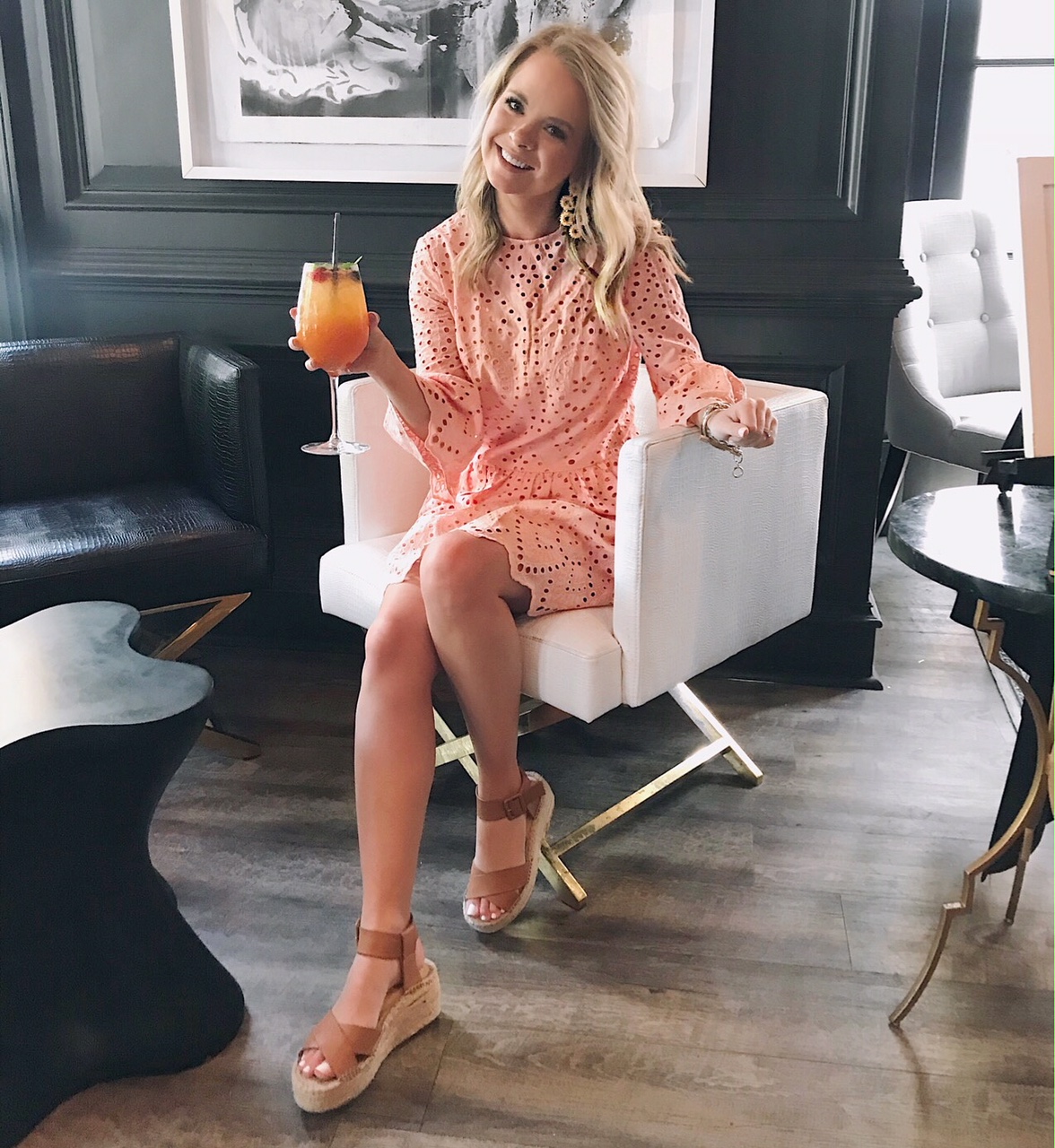 1Kept– The cutest & quaint little restaurant, that is attached to the Renaissance Hotel, where we stayed. Order the Brussel sprouts, even if you are usually not a fan, because I'm typically not but I highly enjoyed theirs because they were filled with flavor & so crispy. We had them at brunch & dinner… no shame in our game! Oh & their pimento cheese board is delish!
Caviar & Banana's– It reminded me of an Eatzi's if you are familiar with that! There were different stations to choose what you wanted to eat and drink. I ordered the pimento cheese board, as I just needed a snack! Paired it with a glass of Chardonnay & it was to die for. I love a good cheese board, especially when wine is involved 😉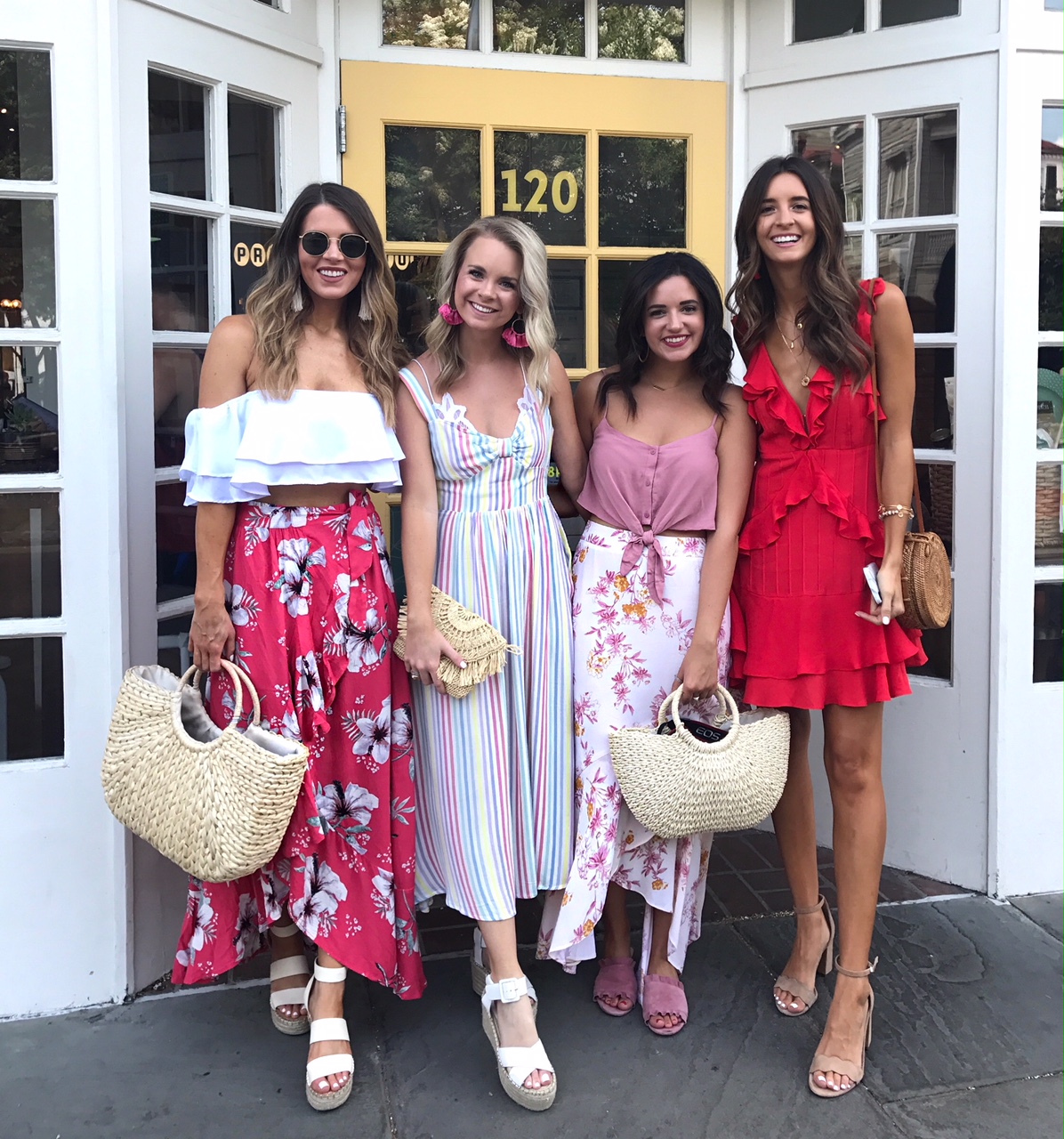 Millers All Day– The best décor & the best brunch. Seriously though, everything is Insta worthy! LOL. I had the biscuits & gravy, which is to die for! The biscuits are homemade & instantly melt in your mouth. We also had the banana pudding for dessert & oh my heavens! I never thought anyone could top my mom's banana pudding, but Millers All Day was close!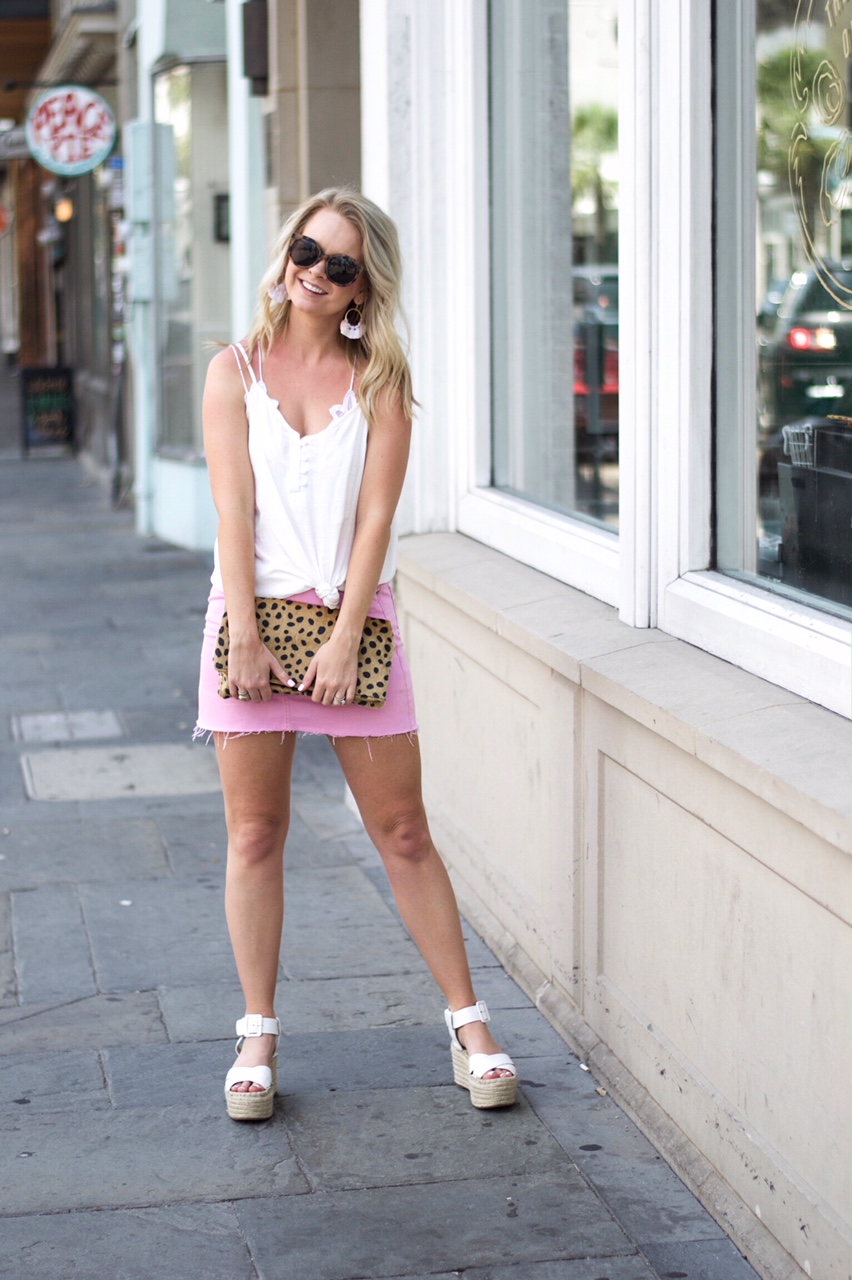 The Darling Oyster Bar– If you love seafood, you will love this place! I would recommend going during the day, because you do not want to miss out on the cute décor. Yasmina & I had a dozen oysters each & they were delish! I would also recommend ordering the Creole Shrimp to start, because it was delicious and had the best flavor! Also, the restaurant is located on Upper King Street, so you can go for a late dinner & hit the bars after because they're within walking distance.
Where we stayed: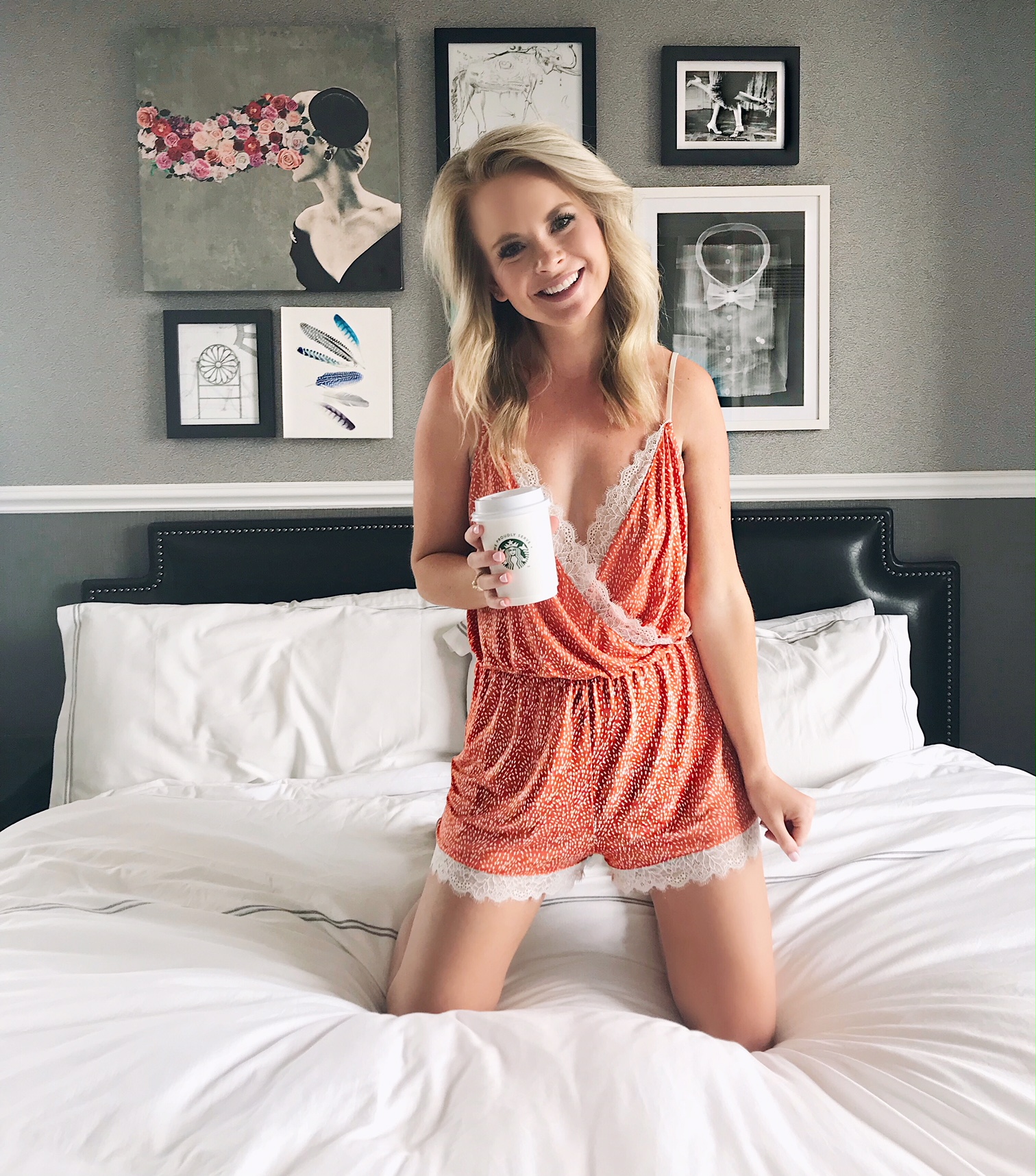 Renaissance Charleston Historic District– The cutest room décor you will ever see! We had a suite & it was perfect, because 4 girls are extremely messy. It was nice, because there was a little sitting room that you could close off from the bedroom. AKA perfect to put our suitcases! The staff was wonderful & we felt right at home from the moment we walked in. King Pops was set up & serving complimentary popsicles, which were bomb & the perfect greeting. Also, can we talk about the beds? Because wow they were so comfortable I could have slept all day!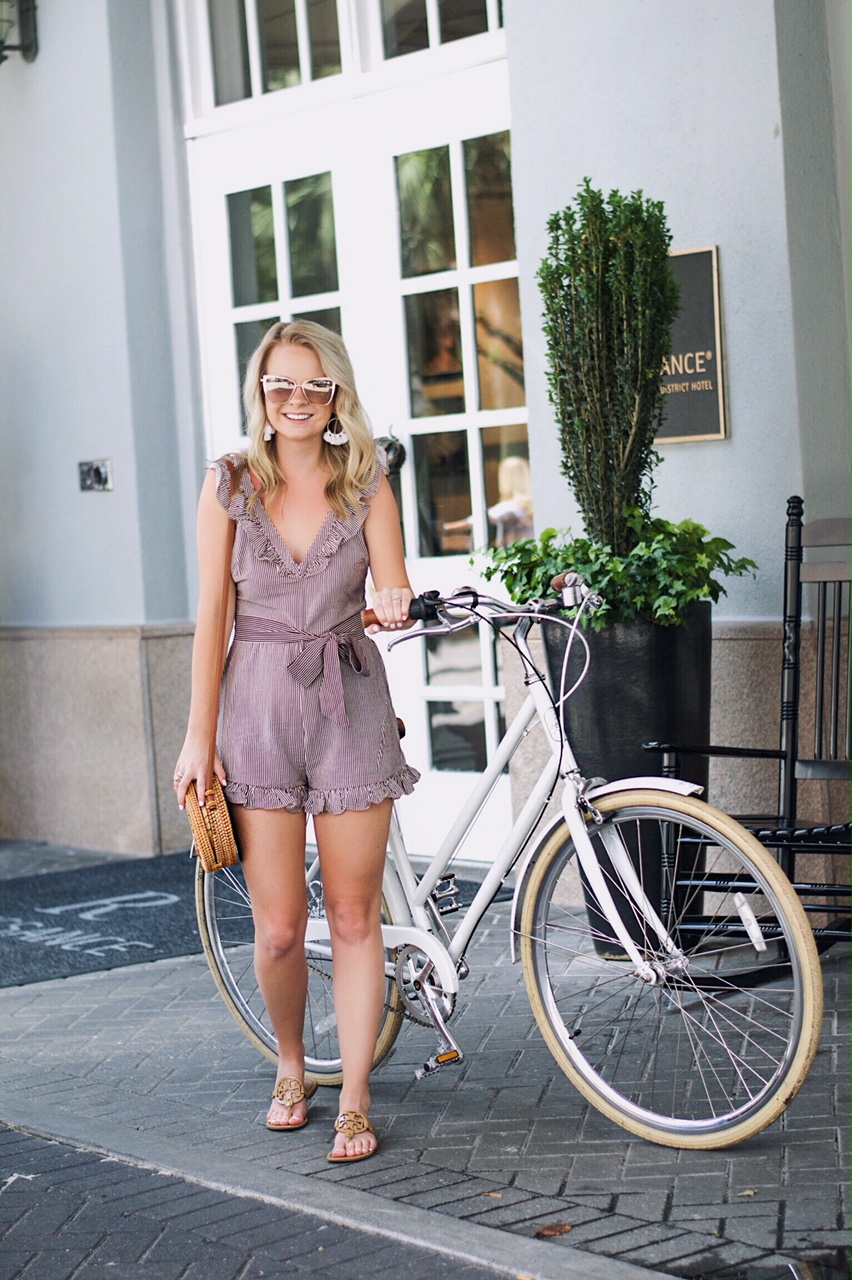 If you want to explore the city [which why wouldn't you?], the hotel provides the cutest white bikes [that are perfect for pictures, as you can see] and they are complimentary! They're perfect for riding around town, since King Street is right around the corner from the hotel.
The hotel is in the perfect location to explore King Street & even Upper King Street where the bars are. However, if you are not looking to walk, Ubers are extremely reasonable and can get you where you need to go around the city!
And if you need a quick bite to eat, 1Kept is attached to the hotel & has a great bar & food… like I mentioned above! 🙂
What we did: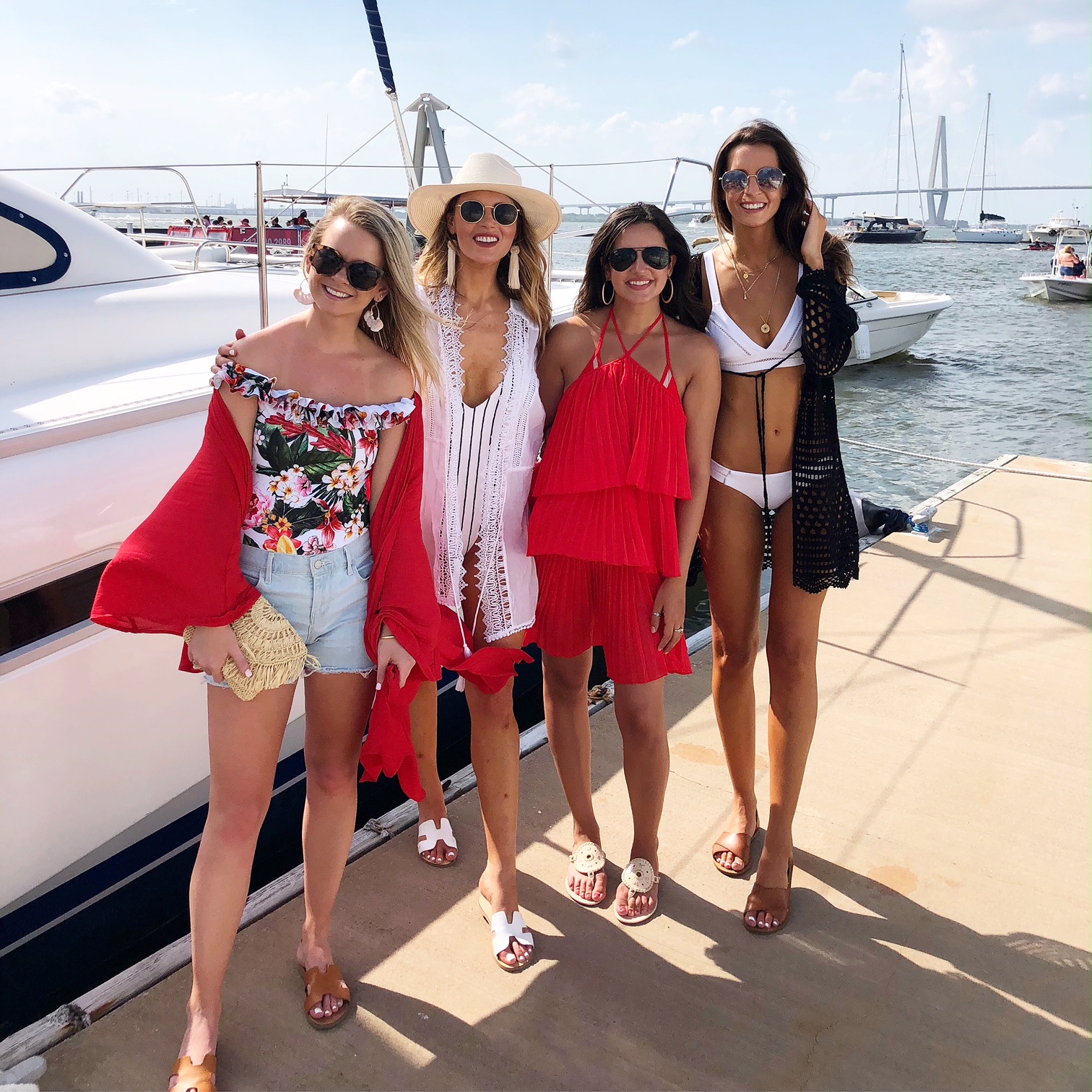 OM Sailing Charters– Perfect for a day out on the water! It was so fun getting to jam to music & layout on the boat with the girlies. The captain, Banff, was also wonderful & made the experience much more enjoyable. He sailed us around and made sure we got to see where Fort Sumter was, as well as all the precious houses that outline the ocean! I would definitely recommend this for a bachelorette party [the boat can hold around 6 people] or even for a date night! Banff was saying he has had many proposals happen on the sunset cruise… so if you're a boy looking to propose, you're welcome in advance 😉
Upper King Street Bars– If you are looking to get down & party head to Upper King Street for great night life! We went to Republic the first night, which is more of a club atmosphere. Picture tables with bottle service & rap music to dance to! Typically not my scene, but it was fun with the girls!
We also went to Stars Rooftop Bar, which is very laid back & has a great view. They played low key music & their drinks cost around average. If you want to actually be able to talk & hear your friends I would recommend Stars Rooftop. LOL! The music is not blaring to where you can't hear anything!
Conclusion:
All in all, it was a fabulous trip & I am already trying to plan a trip for Austin & me. I am thinking sometime during the fall though, as it is extremely hot during the summer…. Especially when you are walking everywhere! Oh & if you didn't know, it is one of the top bachelorette party destinations. Seriously, so many bride-to-be's it made me want to go back in time to my bach party! It's such a cute town, with so much history. I would highly recommend it to anyone!
P.S. I will be doing several blog posts featuring some of my outfits, as well as sharing them on Instagram. Be sure to sign up for my weekly newsletter to stay up to date!

Thanks to the Renaissance, 1Kept, Millers All Day & The Darling Oyster Bar for this collaboration. All opinions are my own.