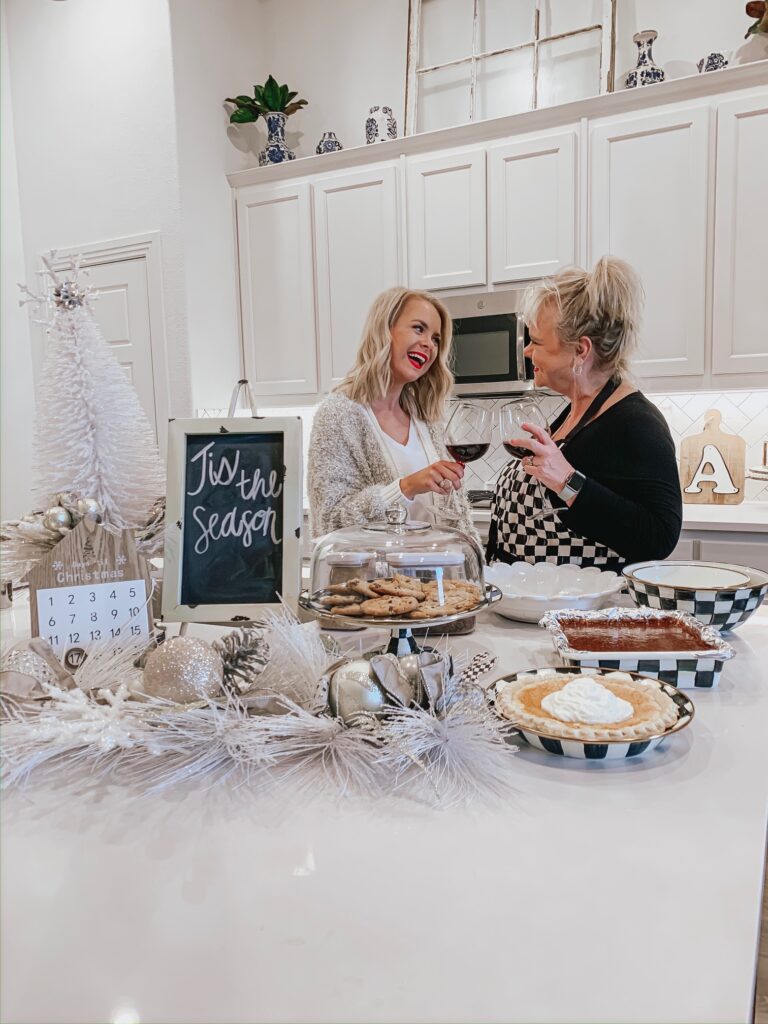 Nothing says Christmas like baking holiday goodies with my momma and sipping on a fabulous glass of cabernet. This has been one of our traditions for as long as I can remember, well not the wine part, but the baking… yes 😉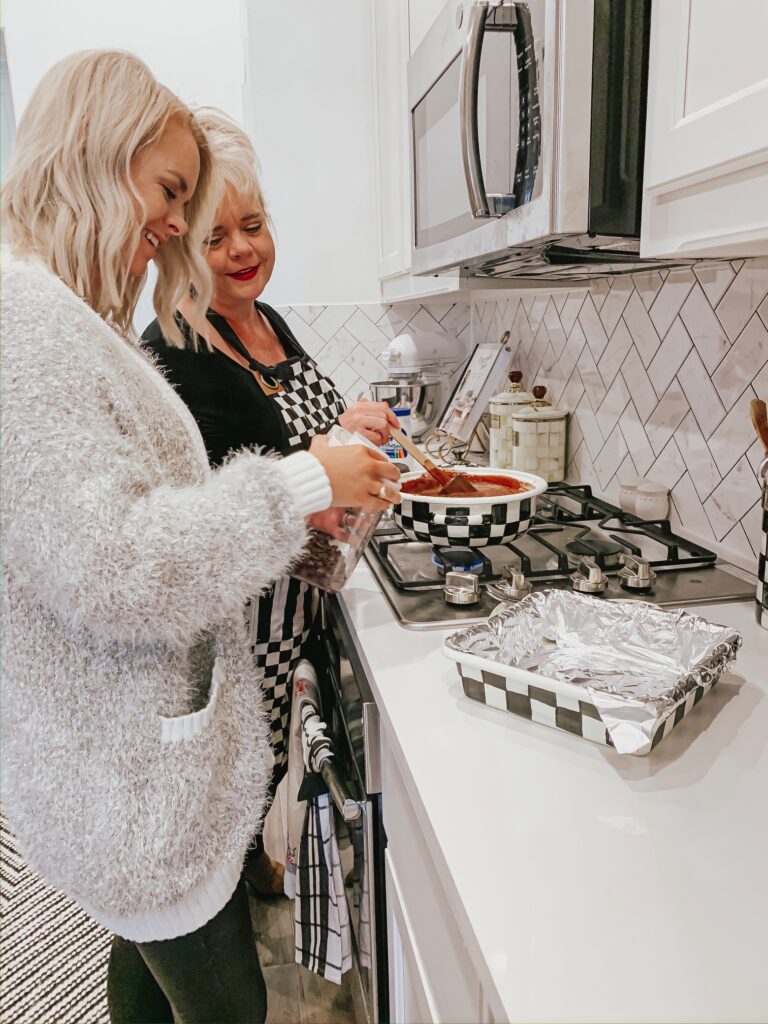 This year our tradition looked a tad different, as we got to spend the day with each other in mine & Austin's first home. We baked all the yummies in some of my favorite MacKenzie-Child's pieces & let Austin be the taste tester. His favorite thing my mom bakes are her Neiman Marcus chocolate chip cookies. I beg to differ, because her fudge is by far the best thing she makes.
Growing up my mom always served dessert with dinner. It didn't matter if it was a random Tuesday night, she made sure we had something sweet to end on. She practiced so much + she thoroughly enjoys baking, I swear the woman could own a bakery in her next life. Her sweets are the best and I am so excited because she's letting me share her fudge recipe with you at the end of this post!
Now let's talk about the MacKenzie Childs Courtly Check pieces you see, because these items are new to our kitchen and would make the perfect gifts for your momma or any special lady in your life.
I had seen the classic MC Courtly Check Enamel Tea Kettle all over Instagram the past few years and continued adding MacKenzie-Childs pieces to my Christmas wish list for Austin. He honestly didn't really know where to start with purchasing their items for me, therefore he never gifted them over the past years.
When I started looking at everything the brand had to offer online, I also felt overwhelmed and didn't want to mess up by pairing the wrong pieces together. After learning more about the MacKenzie-Child's brand I came to realize you cannot mess up. Everything goes together and you can get as creative as you want.
Their prints are so fun and vibrant and I love that there is something for everyone. For instance, my mom is extremely laid back and isn't the "shopping" type, but she LOVES the Courtly Check items. What's also great about this classic print, is it goes in any home and you can make it as funky or casual as you want.
I love that my mom and I got to bake with some of my MacKenzie-Childs pieces and put them to use, because their not meant to just sit in your cabinet. Their pieces are meant to be loved and to create memories with. There was something so special about carrying on mine and my mommas tradition in my first home with the pieces I will one day pass down to my daughter. Doesn't get more sweeter than that, if you ask me!
If you are browsing MacKenzie-Child's website and feel like you don't know where to start, trust me you are not alone, but I am here to help! The Courtly Check Enamel Tea Kettle is a great classic if you are looking to start out with just one piece in your kitchen & is a MC staple. It would also be the perfect gift for any lady in your life, as it makes that statement we are all looking for in our kitchen.
BUT if I had to choose a couple pieces to add to my collection starting out, or to gift, it would honestly be the baking pans. I use these several times a week and are definitely the MC items I get the most use out of. How special would it be to gift these to your mom or girl friend and know how much they're going to get used and loved?
It would also be a fabulous tradition by gifting a new MacKenzie-Child's piece each year to that special lady. I may or may not be starting this with my mom this Christmas 😉 I am so excited to get to see her incorporate MC into her home and watch her collection grow over the years to come. And I can also take everything off her hands one day and add to my own personal collection. LOL!
Do you have a special tradition with your mom that you carry on each year? I would love to know in the comments below!
Mom's fudge recipe is linked here