Let me start out by saying this was probably one of the best trips I have ever been on. Definitely in my top three! Tulum was an absolute dream and I am going to help break down everything from price, where to stay, eat, etc.
Let me start by saying I traveled with two of my best girl friends. Which my husband was not the biggest fan of at first, solely because we were traveling to a different country, but we felt extremely safe in the city. I would recommend Tulum as a travel destination with a group of girl friends (would be so fun for a bachelorette party) or a couples trip. I do not see this being a romantic getaway for you and your man. We actually did an all inclusive in Tulum for our honeymoon and I am super sad thinking about all we missed out on. I would recommend not going the all inclusive route in Tulum because there is SO much more to see and do in the city.
WHERE TO STAY
Kimpton Aluna Tulum Is a brand new boutique styled hotel that just opened in Tulum this past December. When you immediately walk in you feel like you are definitely in Mexico with the boho, jungle vibes. The rooms were extremely spacious and there was plenty of room for Audrey and me to lay all of our stuff out! AKA make the room a mess in a matter of minutes 😉
The Kimpton is located about 10 minutes away from the main hotel strip in Tulum, which is where we spent everyday at. I preferred staying off the main strip, as it gets pretty rowdy at night! Just prepare for lots of taxis to and from the property, which the Kimpton will help you with. The Kimpton's restaurant, Parallel 20, is great for breakfast, lunch and dinner and their food was divine. You can also layout by the rooftop pool and order food + drinks up there, which was extremely convenient. They are actually opening a rooftop bar + restaurant soon which looked stunning! We were saying we will have to go back ASAP to get the full Aluna experience!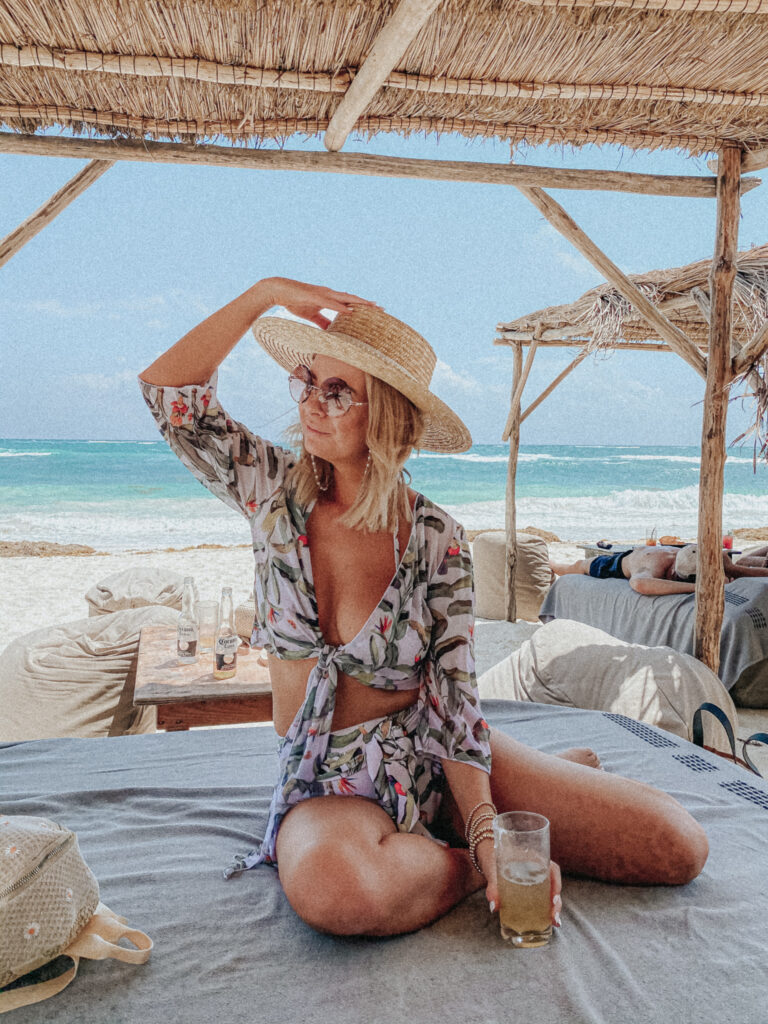 TRAVEL
We flew American Airlines into Cancun from DFW, which was about a 2 hour flight. Super short! From there we booked a shuttle transfer with USA Transfers to and from the airport for $75 each. I could not recommend their shuttle service enough, as they took were extremely reliable and even had Coronas waiting for us when we arrived! Talk about A+ customer service 😉
As I previously mentioned, we took taxis everywhere. Audrey had heard that we could rent a car (which a lot of people do), but the thought of driving around in Mexico terrified me. LOL. The taxis worked out great and the Kimpton would help us secure one when we wanted to leave the hotel to head to the strip. Once you get to the strip there are taxis everywhere waiting for rides. My biggest tip is to make sure you negotiate the price they give you. We had drivers who only charged us $10 for a ride and some who tried to charge us $40. Negotiate. Negotiate. Negotiate.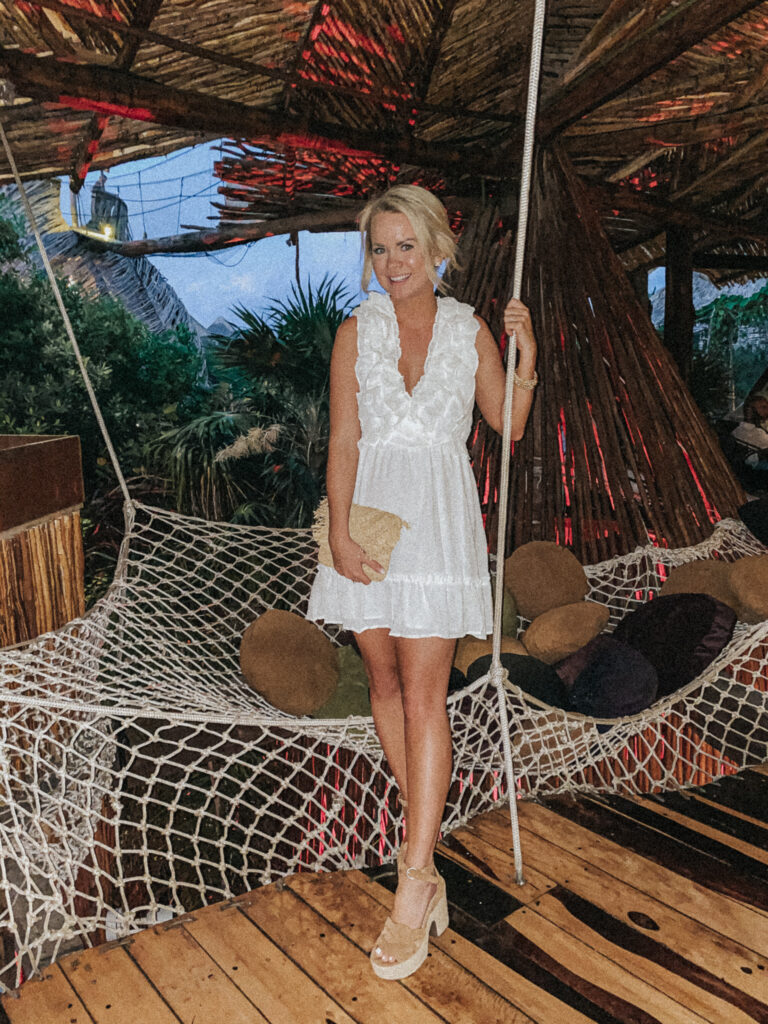 WHERE TO EAT
Tseen Ja– I highly recommend making a reservation for a sunset dinner in this treehouse. And when I say treehouse, I mean actual treehouse. My mind is still blown from the set up! Their salmon sashimi was absolutely divine and the experience was unlike no other. Definitely pricier, but worth every penny for a nice dinner.
Meze- Mediterranean food & gorgeous ambiance.
Matcha Mama- Acai Bowls + smoothies & very Instagrammable
Rosa Negra, Tora, Chambao, Taboo- dinner + clubs! Tulum's motto is you party where you eat so expect these places to get a tad rowdy after 10om. One night we literally were eating a wagyu steak while jamming to rap music. LOL! The experience is unlike no other.
WHAT TO DO
Beach clubs are the thing to do in Tulum during the day and after visiting I totally get why! These are some of my recs and I would say to make reservations a couple weeks out as they do tend to fill up (especially on weekends). Make sure you check the beach club's site to see what the minimum spend is. Most were $50 and under, per person, which was easy to do if you hangout there drinking all day.
PRICING
Hotel: $200+ a night
Flights: $250
Shuttle: $80 round trip
Dinners: $50-$75+ a person (depends where you go and what you order)
Taxis: $10-$30 depending on how well your negotiating skills are 😉
Covid Test: $45 (which we were able to get done at our hotel)
RECAP
All in all, I am counting down the days until we visit Tulum again, which I am hoping will be this summer. Tons of friends and family have asked me to explain the trip and it's super hard to put into words. We made so many memories and probably had one too many jalapeno margs.
When we go back we will definitely be staying for 4 nights vs 3, as we did not have enough time to do/see everything (such as the cenotes).
Take lots of cash and just do the math and convert it when paying. The workers prefer you to tip in American dollars, which is why I never convert my money to pesos when traveling to Mexico. I did end up using my credit card for a couple meals and had zero problems.
Take the trip and make the memories, sis! I promise you will not regret it.