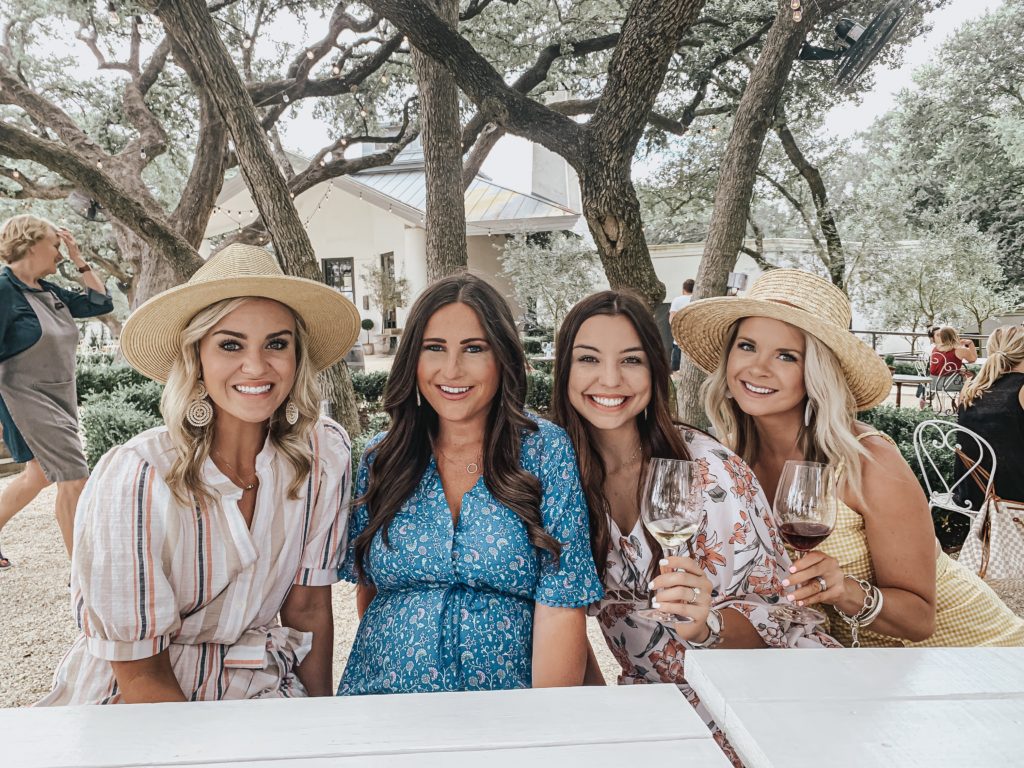 Traveling is one of my favorite things to do and is at the top of my priority list during my 20's, before we have babies. I want to see the world, make memories, try new food, meet interesting people and explore. My wallet is not the biggest fan of this priority of mine (LOL), but I just keep telling myself I need to continue doing it while I'm young 😉 In case you're a girl like me, that wants to see new places, while on a budget, I am giving you the details on the perfect place for you to visit.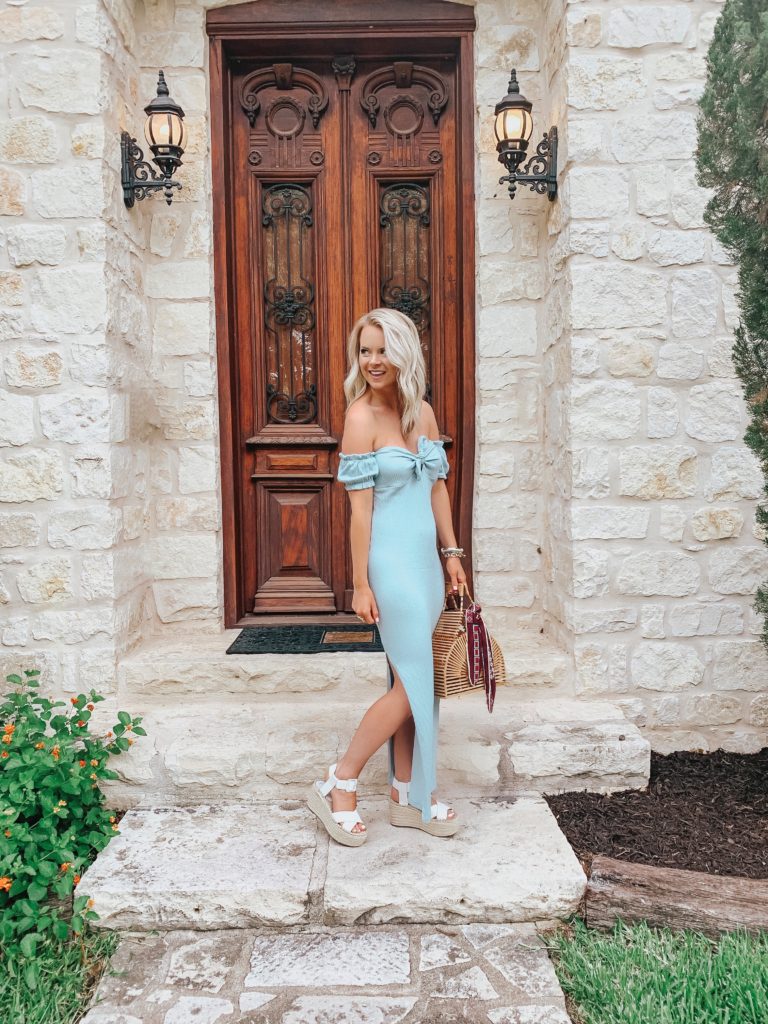 I had the opportunity to take a road trip to Fredericksburg, TX a couple weekends ago with some other blogger babes (only a 4 hour drive from DFW) and we seriously had the best three days. I felt like I was in a mini version of Napa and my wine loving heart was all about it.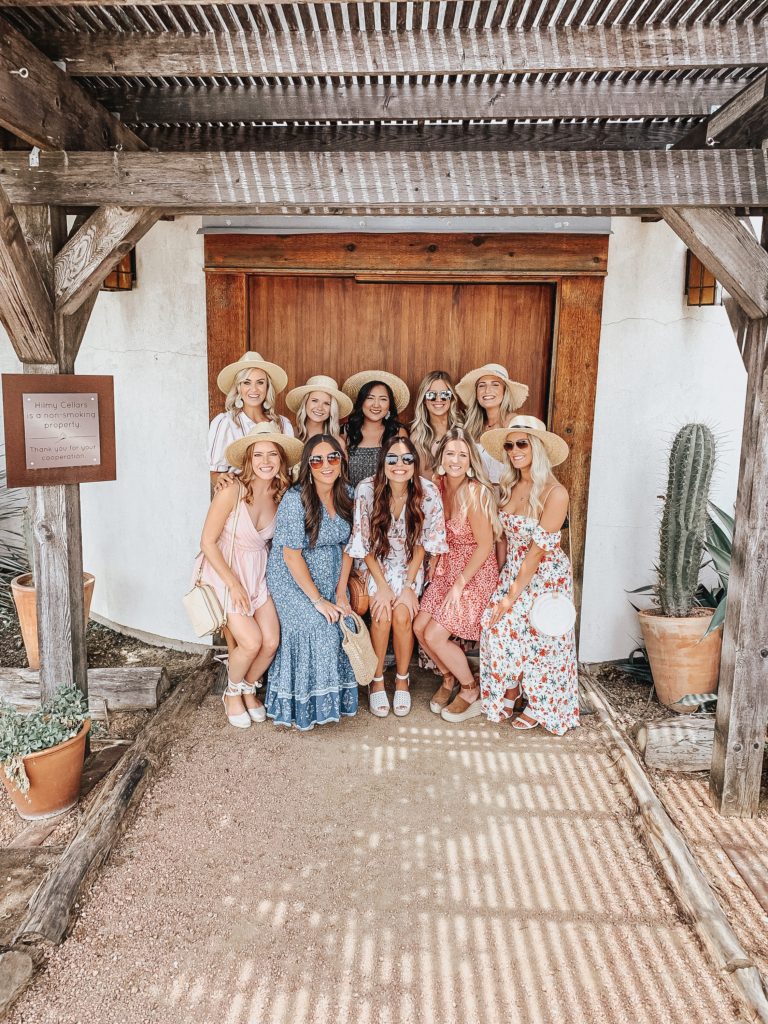 In case you have never been to the Texas hill country, Fredericksburg is the perfect getaway for a girls trip, bachelorette party, romantic getaway with your man or even a couples weekend. We arrived to Fredericksburg on a Friday and left Monday morning and it was the perfect amount of time to explore the city, vineyards and try all the yummy food! Fun fact from one of our wine tastings: Fredericksburg has over 40 vineyards and is expected to double in size. Mind blowing, right?
Where to stay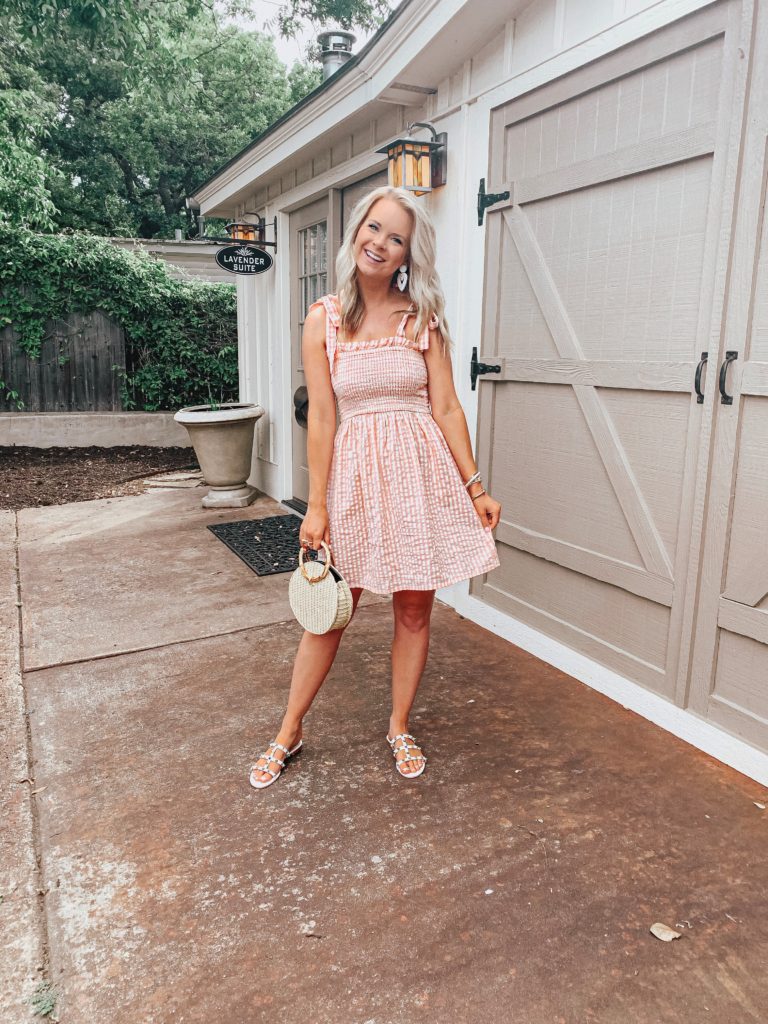 Absolute Charm Luxury Accomodations- they have the cutest B&B's all throughout Fredericksburg. We personally stayed at the Bella Manor and it was so cute and fit 10 girls perfectly! The Lavender Suite was my favorite and had the prettiest decor!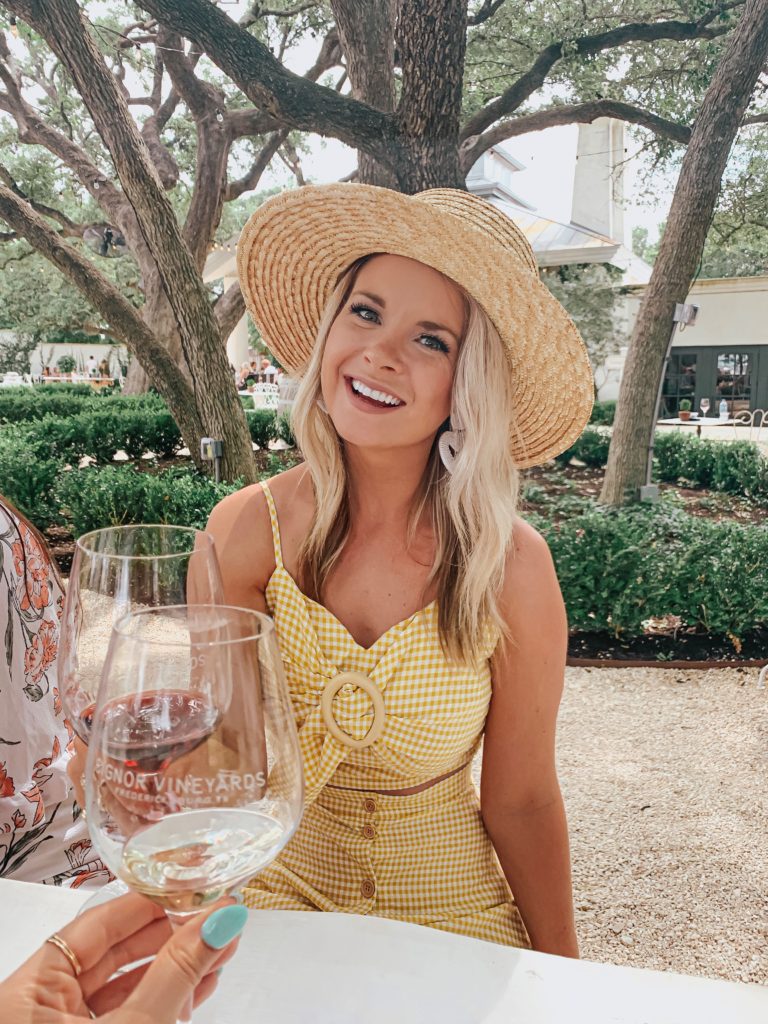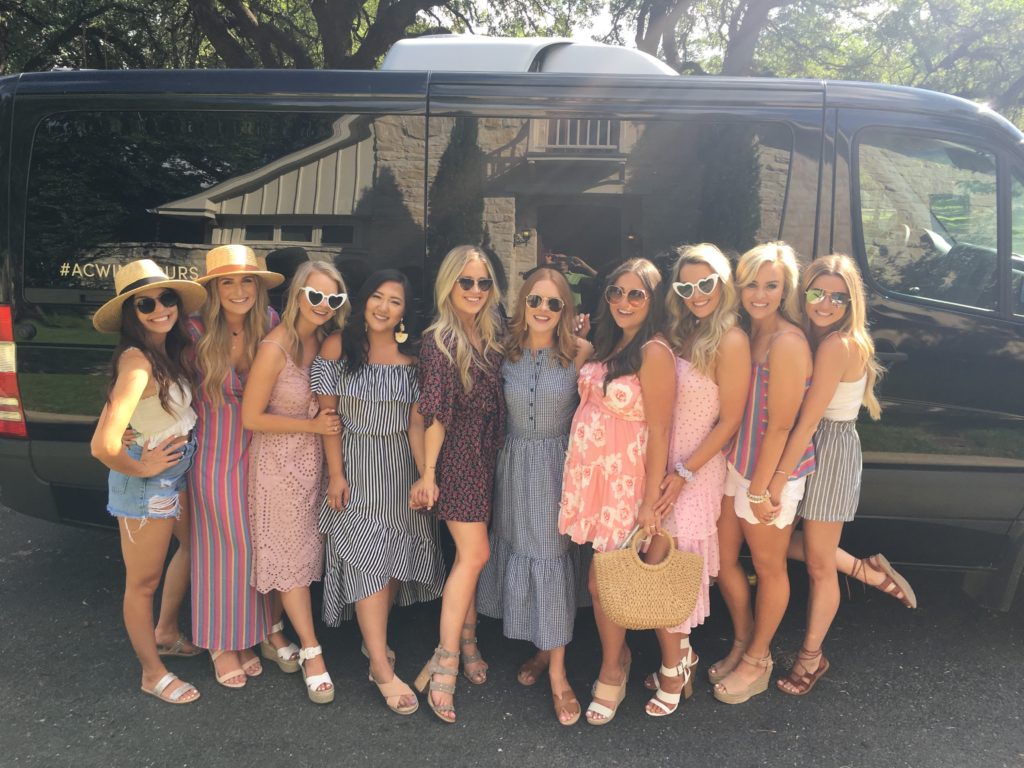 Wine Tours & Tastings
Absolute Charm Wine Tours- they were fabulous! A bus picked us up from our Absolute Charm B&B around 1pm and drove us to our first wine tasting. Let's talk about the best service, especially when you've been sippin' wine all day.
Hilmy Cellars- our first stop on the tour, that was super cute and quaint. You could either do a tasting here or stop by for a glass and enjoy it on their back patio with live music.
Signor Vineyards- by far our favorite of the three vineyards Absolute Charm took us to. It was seriously beautiful and the most Instagram worthy place! Think all the white benches, greenery and flowers everywhere! Their wine & charcuterie boards were tasty too 😉
Lost Draw Cellars- I had one too many glasses of wine by this point, if I am being honest. However, it was a great tasting for accommodating a lot of guests, as they had a backroom with closed doors that we were all able to sit in while we did the tasting!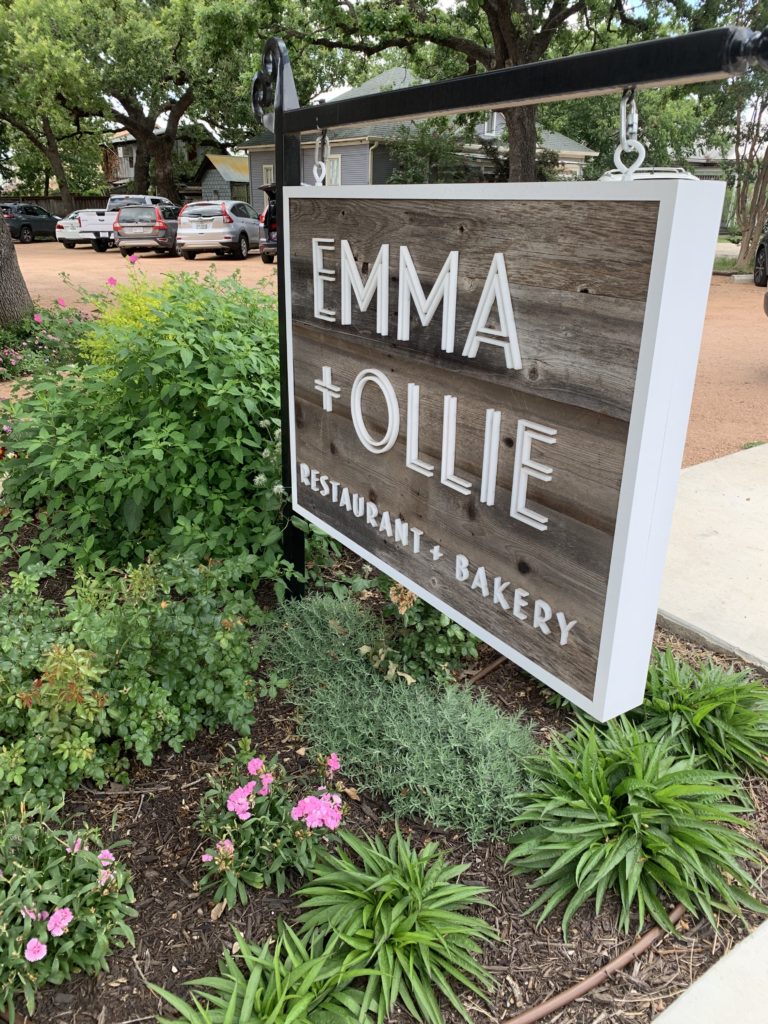 Where to eat
West End Pizza Co- delicious pizza that delivers incase you need a chill night in or if you're just craving pizza LOL because I totally get that, too.
Sunset Grill- cute diner space that had delicious eggs benedict & bloody marys! Very affordable and can seat big groups. Also a great "hearty" meal before you hit the wineries!
Mamacita's- your typical Tex Mex restaurant that will suit your fancy when you just need queso & a marg. They had this green dip that was to die for & I would go back just for that!
Emma + Ollie- the cutest, trendy brunch restaurant. I of course ordered the avocado toast with a side of bacon and it did not disappoint. Be sure to order beignets for dessert & a lemonade to go!
Clear River Ice Cream- delicious, homemade ice cream for an afternoon pick me up! I had the peach sorbet and it was to die for.
All in all it was a great girls weekend including my favorite things. Girl time, wine & cheese boards. LOL! I got to know a lot of new ladies this trip and I want to share them with you! They all have different styles & aesthetics and I would highly recommend you check them out or follow along on Instagram.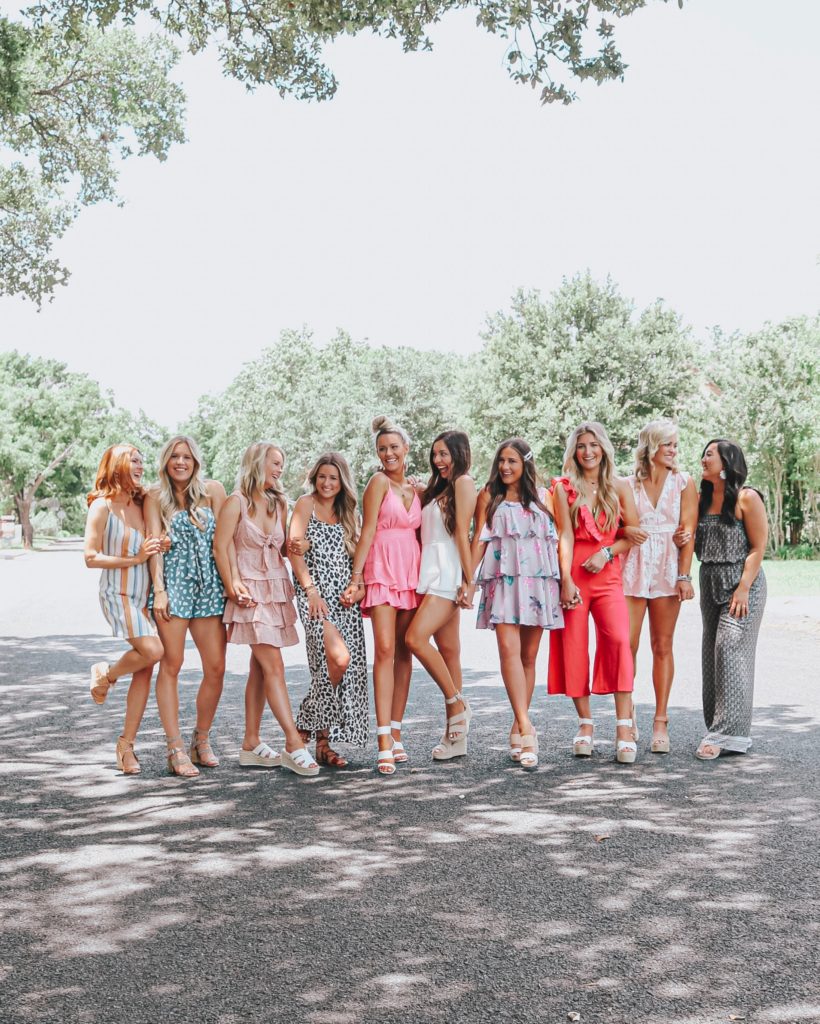 Audrey- @audreymadstowe
Kirstin- @StyledbySequins
Hillary- @shophillarycripps
Alix- @alixhanahan
Savannah- @thetrendygalblog
Brooke- @brooke_kenney
Nickie- @nickievu
Hannah- @ohwhatasighttosee
Mackenzie- @_mackenziebay_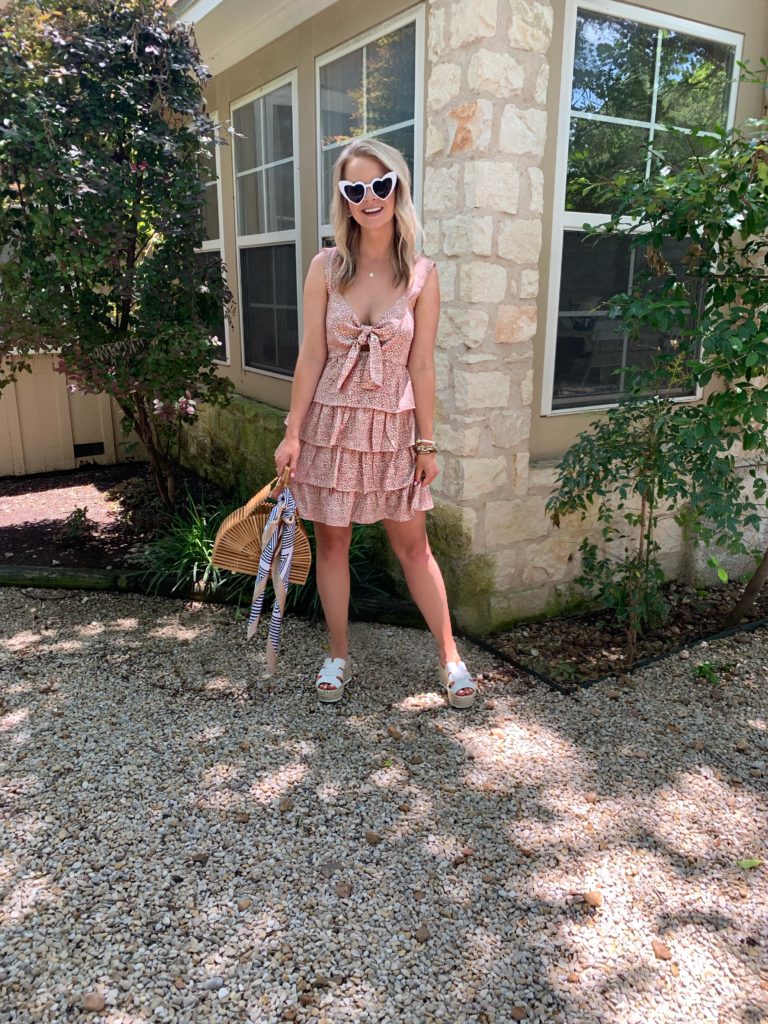 Have you been to Fredericksburg? I have already told Austin we have to plan a romantic getaway ASAP!